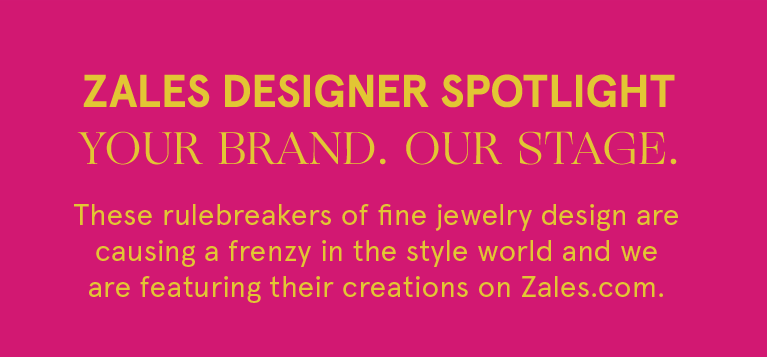 Award-winning designer Sarah Graham creates jewelry that is unlike anything else: Organic, textural and with a muted palette that is feminine yet substantial and universal in its appeal. A true bench jeweler as well as a designer, Sarah's inspiration comes from nature – whether cast direct from dried Jacaranda pods and decayed wood or rendered in wax from a microscopic view of a single cell marine organism. Expertly created in yellow, rose and white 18K gold with matte black oxidized cobalt chrome and colored diamond accents, Sarah's bold and unique pieces are immediately eye-catching and infinitely wearable. We are excited to include her in our Designer Spotlight series.
Elliot Young
Jessica Elliot and Jennifer Young are Elliot Young Jewelry. Their long friendship became a partnership because of their shared passion - jewelry and giving back. The crossing arrows is their symbol because it represents their friendship and collaboration. These two powerful women are committed to lifting people up, enjoying all that life has to offer, making a positive impact, and fulfilling their ultimate dream and passion.

Using consciously sourced precious metal and stones, the jewelry is hand cast, fabricated and set piece by piece in downtown Los Angeles with love and commitment to quality. Elliot Young creates contemporary fine jewelry that is modern yet timeless and gives back with every purchase.
Alexis Mazza - LexiMazz
Alexis Mazza melds her life experience within the jewelry industry with her love for fashion and education at the Fashion Institute of Technology to create her unprecedentedly inspirational pieces.

Her collections are deliberately designed so that they can be worn together, mixed and matched, stacked, layered, and worn in any setting while executing confidence, beauty, and grace. Alexis designs her line in such a way that empowers women to think outside the box and allows each customer to create their own individual look, thus creating a distinctive and exciting experience that is different for every customer.
Azra Mehdi - AuXchange
Originally from India, Azra Mehdi created AuXchange to reflect of her true passion – stylish, affordable, empowering gold jewelry. Designed to make a statement without saying a word, her timeless and elegant jewelry styles are created in 14K gold with natural diamonds and gemstones.

AuXchange was founded on two distinct principles: Empowering women with exceptional quality gold, diamond, and gemstone jewelry, and supporting girls' education to create tomorrow's changemakers. Beauty AND brains!