Men's Engagement Rings
---
Men's Engagement Ring's Rising Popularity
When you think of an engagement ring, perhaps the first thing that pops into your mind is the traditional diamond that's meant for a bride. You wouldn't be wrong; women are often the focus for all things engagement rings, but that is changing.
It's safe to say that most couples today want their wedding celebrations to reflect a more unified partnership. This shows up in how couples adapt symbols of love like engagement rings. Within the last year, in fact, 7% of all men said they have received or wear an engagement ring. As they grow in popularity, there are plenty of options out there for men's engagement rings — we're here to help you find the right ring for you.
---
Engagement Rings are for Everyone
Your rings are just one part of your love story. We are seeing more and more gay and straight couples buying men's engagement rings as part of their proposals. Because men's engagement rings may be new to some couples, basic questions about the process understandably come up. Do you buy the ring without your fiancé's consultation or is he part of the process? Do you coordinate your rings or do you pick individual styles? At the end of the day, you're starting a new tradition, so do what makes sense for you. If you want to surprise your boyfriend with a unique engagement ring, go for it! If you know your fiancé wants matching engagement rings, then do that. Always remember it's your engagement; choose what speaks to you and don't limit yourself to traditions that don't fit your relationship.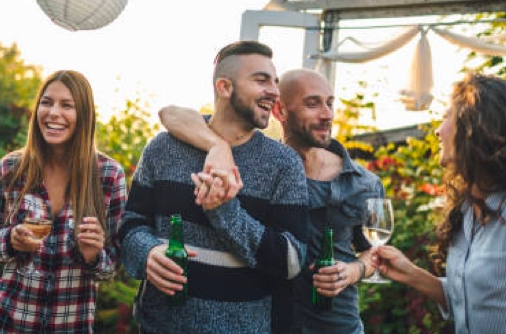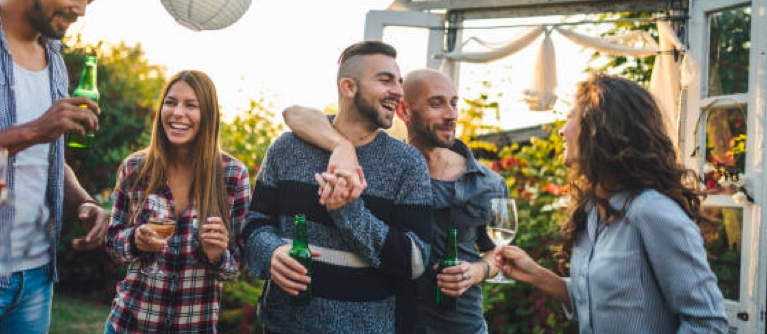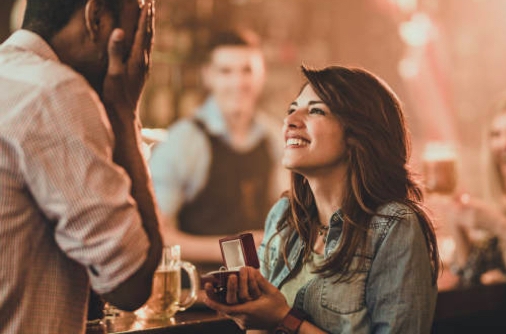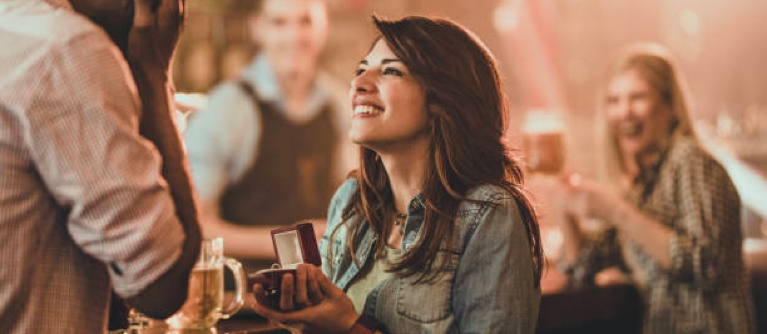 ---
History and Traditions
Engagement rings for men don't have a long history, but keep in mind even the popular diamond engagement ring only gained widespread popularity in the 1940s. However, historically we do see examples of matching engagement rings worn by couples.
Gimmel rings are a great example of a couples ring and they date back to the 16th century. Couples would exchange gimmel rings at their betrothal, and at that couple's wedding ceremony they would interlock the rings. A pair of gimmel rings are usually identical to each other, hence the name gimmel which means "twin" in its original Latin. Having related engagement rings is a lasting tradition in some parts of the world. In countries like Sweden and Argentina, it is the norm for both men and women to wear engagement rings.
---
Which Hand?
On which hand? It's up to you and your traditions. In the United States the norm is for engagement rings to be worn on the left ring finger, but you can always make your own rules. In some regions, including Northern and Eastern Europe, wearing engagement rings on the right hand is traditional. Sometimes engagement rings switch hands as part of a wedding ceremony. In Chile, people move their engagement ring from their right to left hand to symbolize their change in marital status. There is no absolute rule for men's engagement rings, so it's really your decision.
---
Styles and Designs
Style, metals, width, and finishes can make your ring personal. Whether you prefer something simple, modern, or something in between, there are plenty of men's engagement ring options for you to explore.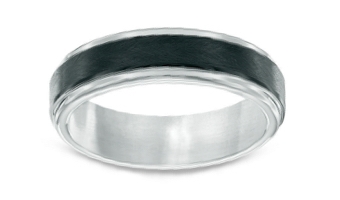 Metal Bands
Consider how you live when you choose the metal for your engagement ring. If you want durability, alternative metals like tungsten, stainless steel, and cobalt are especially strong and scratch-resistant. Two-toned styles like banded, contrasting rings in black and silver tantalum add interest with color. You can even find unique finishes like hammer- or satin-finished rings for an artisanal appearance.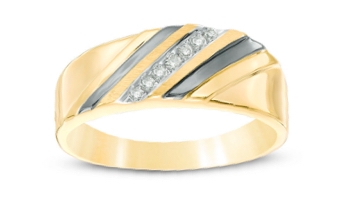 Gemstone Bands
Get the feel of a classic engagement ring with the inclusion of gemstones in your design. Choose from colorful gemstones, timeless diamonds, or even black diamonds that add an air of suaveness. Gemstone engagement rings for men suit styles from modern to traditional.
---
Start your journey together with men's engagement rings, especially styled for him. Explore metals from classic gold to contemporary cobalt with a range of unique finishes and sophisticated gemstone accents.
​