Engagement Rings that Link to the Past
---
Today there are a lot of styles of engagement rings to choose from. However, you don't always have to look ahead to find something beautiful — we think it's great to take inspiration from the past. We love antique-style wedding rings because of their richness in story, their meticulous artistry, and their connection to times and traditions that speak to you. Find the right vintage-inspired engagement ring for you as we embark on a style journey through history.
---
Popular Gemstones for Vintage-Inspired Styles
Did you know the diamond engagement ring is pretty recent tradition? It wasn't until the 1940s that the popularity of a diamond engagement ring took America by storm. So, when you think vintage, you should actually think of colorful engagement rings featuring gemstones like sapphire, ruby, emerald, or topaz. If a colored gemstone isn't your style, don't worry. There are plenty of options that keep the vintage-inspired silhouette you love and incorporate the gemstones you want, like sparkling diamonds.
---
Victorian Engagement Rings
The Victorian Era refers to the historical period of Queen Victoria's reign, roughly from the late 1830s to 1900. Victorian jewelry was very romantic and ornate, featuring passionate, dark gemstones like garnet. Sentimental motifs were incredibly popular; you'd often see rings that used organic designs like leaves, vines, and flowers as well as hearts and hands to stand for the flourishing relationship of a young couple.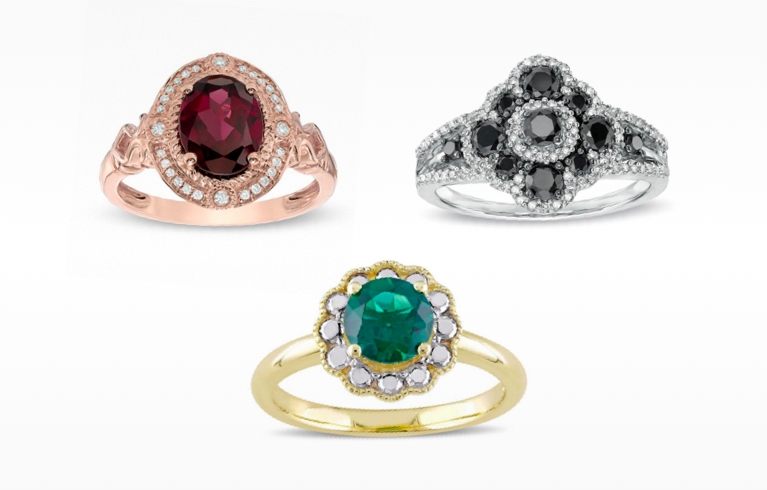 Shapes and Cuts
Antique-style wedding rings referencing Victorian jewelry favor a variety of gemstones like diamonds, amethyst, emerald, garnet, and topaz. Seed pearls were also immensely popular in this era. As for cuts, domed shapes like rose cuts and cabochon were widely used. The faceted old mine cut was also popular and is a historic version of a round cut. Engagement rings featured halos or clusters of gems for dramatic effect.
Metals
Victorians typically used gold in their engagement jewelry, like yellow gold and rose gold. White gold was not commercially available at the time, and we do not see it appear until the 1920s.
Settings
There are a couple of Victorian settings that still remain popular today for antique-style wedding rings. For example, solitaire rings with prong settings are quite popular. The Victorians loved this setting and would enhance it with intricate relief-work around the band. Bypass engagement rings were also a Victorian staple because of their organic shape and intertwining band. Victorians also wore crossover rings, which usually had two stones to represent the new couple.
---
Edwardian Engagement Rings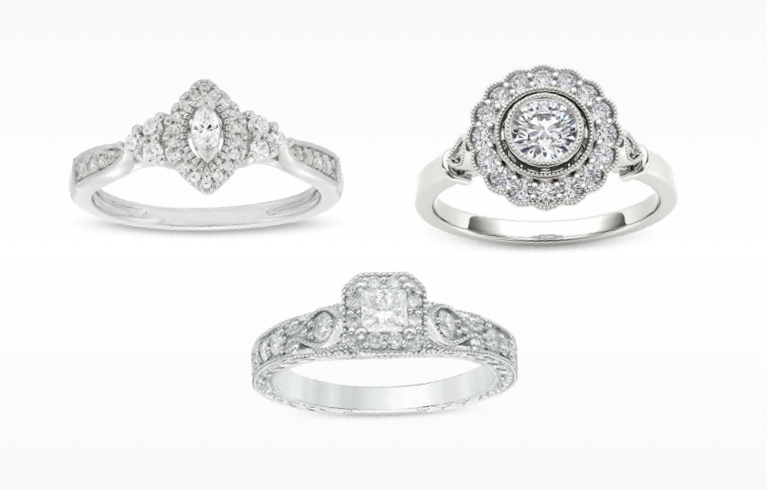 The Edwardian Era refers to the historic period that began in 1901 and ended with the start of World War 1 in 1914. Edwardian style has a quality of openness and levity. Edwardians favored organic designs in lace-like patterns. Most rings featured filigree, a type of decorative metalwork, with design elements like satiny ribbons and bows, and natural elements like flowers, and leaves.
Shapes and Cuts
Similar to the Victorians, a wide range of gemstones were used for Edwardian engagement rings including diamonds, emerald, sapphire, ruby, opal, and pearl. Cuts stayed pretty consistent, with rose cuts and old mine cuts still staying popular.
Metals
Edwardian engagement rings still used gold in their design, but also began to incorporate cooler-toned metals like silver and platinum to give some ring styles a more monochromatic look.
Settings
Solitaire settings still remained popular but were decked out with intricate scrollwork. A big difference we see is oversized bands. The band and bezel of engagement rings were often exaggerated in size to show off lacy latticework in metal.
---
Art Deco Engagement Rings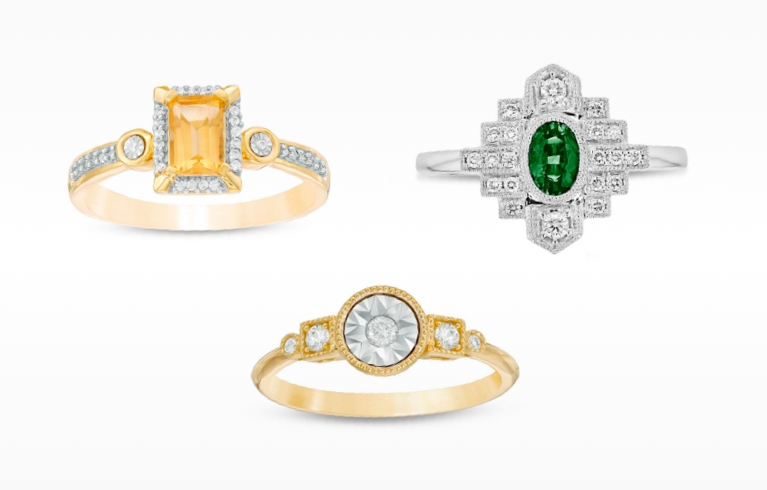 The Art Deco Era spans from the 1920s to 1930s and is remembered for its bold and glamorous sense of style. Art Deco engagement rings have strong lines and repeating geometric patterns in squares, rectangles, triangles, and circles. Rings often featured gemstones in contrasting colors.
Shapes and Cuts
Art Deco gemstones for engagement rings kept up with this era's aesthetic by introducing the Asscher cut and using other angular shapes like the elongated emerald cut and baguette cut. The colors ranged from richly colored blue and yellow sapphires, green emeralds, and red rubies to monochromatic white diamond designs.
Metals
Platinum achieved huge popularity in the Art Deco Era. Platinum is malleable enough to create crisp shapes and lines and is also extremely strong and tarnish resistant. Aside from platinum, you will also see many Art Deco rings in yellow gold.
Settings
Solitaire prong and bezel ring settings remained popular in the Art Deco Era. Some engagement rings had their head gemstone set in enamel for an interesting twist on a traditional halo ring.
---
Shop Vintage-Inspired Engagement Rings
Discover beauty that has stood the test of time. Engagement ring styles inspired by vintage designs bring an element of the past to your lasting future together. Explore ornate antique-style designs and timeless creations that never go out of style.
Recall the beauty of the past with vintage-inspired engagement rings. Discover dazzling diamond and gemstone rings in lovely designs.
​
---
Enjoy the enduring craftmanship of vintage-inspired engagement rings. Find the ring for you that embraces styles ranging from the classic to bold.
​