---
Top 10 Looks to Love Now
The trend experts at Zales are constantly scouring the latest designer offerings to pinpoint what's coming next in fashion and fine jewelry. There's always something fresh to love or wear in a new way. Here are some of the latest of-the-moment ways to make your own jewelry statement.
Zales offers jewelry made with traditional metals like gold, silver, and platinum, along with modern metals like tungsten, stainless steel, titanium, and more. Here's a look at metals used in jewelry today.
---
1.Fresh Picked Florals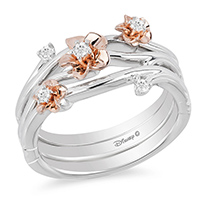 Flowers make any day a little brighter, and make any outfit look a little more fresh and feminine. Flower-themed jewelry is a hot trend right now — daisy-shaped studs or a gemstone-studded flower ring can take a simple sheath dress to an enchanting new level—no matter the season. Shop our colorful garden of floral-inspired styles, including necklaces, earrings, rings and more, and celebrate your inner flower child.
---
2.Flutter By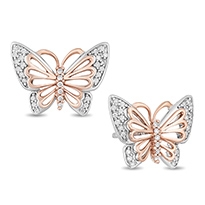 Butterflies have long been a symbol of metamorphosis and new beginnings, which is why winter blues are banished by these symbols of new life and freshness. Butterflies are perpetually popular in jewelry designs. Who couldn't love a butterfly pendant set with colorful gemstone wings? Or butterfly earrings created with intricate, delicate filigree or diamonds? You can wear them again and again to symbolize your fresh new outlook.
​
---
3. Luxe Layers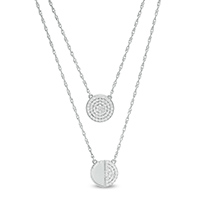 Layering your necklaces continues to be a hot look in jewelry. Start with a choker or a shorter chain – say 14" or 16", depending on your neck size. Then, add necklaces of sequentially longer length, continuing to add until you've achieved a layered look you love. It's okay to mix metals, gemstones, or even add charms into the mix. The only rule for layering is to make sure the necklace layer you are currently adding is longer than the layer added previously.
​
---
4. Pearlfection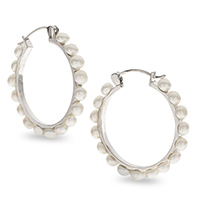 Is there anything prettier to class up a look than a simple strand of pearls? Add a pair of pearl stud earrings and whatever you're wearing feels instantly timeless. Change up the pearl look with fanciful pearl drop earrings, layered pearl bracelets, or oversized pearl rings, and layer on the luxe and lovely.
​
---
5. The Bold Earring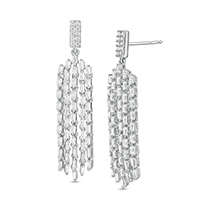 Seems like more and more, people are choosing to go for it. A great way to do just that? Earrings that can be seen clearly in every Zoom call. Oversized hoops are a big, bold way to command attention. Bonus — If you have more than one piercing in your ears, you can wear even more hoops! Large drops and chandelier earrings are meant to be seen, too. All are absolute fashion must-haves.​
---
6. Welcome to the '90s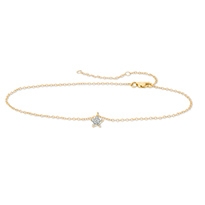 Jewelry trends from the 1990s are back — and anklets are one of them! Ankle bracelets are a great way to make a fun style statement, and can be paired with everything from casual sneaks to workday heels to strappy sandals. Sterling silver and all the colors of gold are always great choices, and styles range from simple chains to layered looks and designs adorned with charms or dangles. Kick it with this fun trend.
​
---
7. Glow in Yellow Gold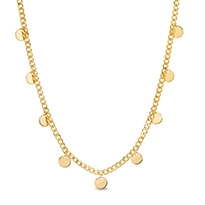 Totally on trend, jewelry styles in warm yellow gold are experiencing a renaissance. Gold complements any skin tone and never tarnishes. We love that! Get a brilliant golden look by layering your favorite chains and pendants, stacking rings, or linking bracelets — and don't forget the earrings! Wear it, layer it, flaunt it and show off your golden glow.
---
8. Sparkle Statement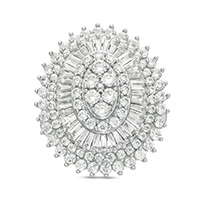 Jewelry has the power to make us feel powerful — which is completely in right now. Feel max confidence in sparkling diamonds — diamond earrings, diamond necklaces, diamond everything! Marrying styles from our Endless Brilliance collection with basic styles you already own creates a bold, bright statement look that can't be missed!
​
---
9. Wear the Inside Out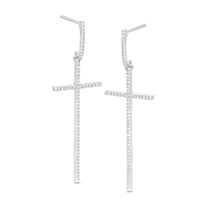 When the world feels like it's upside-down, hopeful, sentimental styles lift the spirits. Right now is a great example. People everywhere are wearing their support for transformative power of love, or breaking out the jewelry that expresses faith and feelings. You can try layering with your cross necklace, a "Believe" ring, or even have a piece personalized with your own inspiring message.
​
---
10. His, Hers, Ours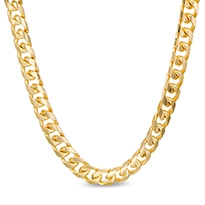 Jewelry that looks great on BOTH of you is so in right now. Share with your significant other by borrowing from each other's styles—try her diamond hoops on him, or his bold curb chains on her. Expand your relationship – and your jewelry wardrobes – by swapping looks, having fun, and going for it!
---
When it comes to the latest looks in fine fashion jewelry, Zales has you covered. We stay on top of the trends so you can feel fresh and innovative. Shop the latest looks anytime, day or night, online at Zales.com. Or stop by your local Zales retail store and get a trend update from a knowledgeable Jewelry Consultant. So many ways to have fun finding your fresh new look!
---