Skip to Content
Skip to Navigation
Zales Lease Purchase Program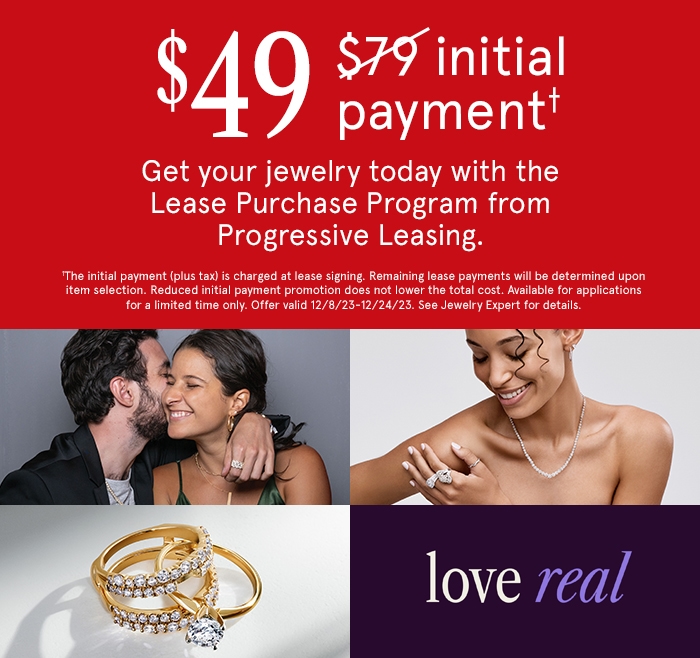 Getting the jewelry of your dreams is easier than ever with Lease Purchase Program powered by Progressive Leasing. Get what you want today and own items in 12-months or less.

No Credit Needed
Progressive Leasing obtains information from credit bureaus. A credit score shouldn't define you. Apply Now for a No Credit Needed* lease purchase plan. Not all applications are approved.

Instant Decision
Discover how much you can get approved for and get the merchandise you want to day.

Flexible Payments
Flexible weekly, bi-weekly, or monthly payment options make it simple to use.

90-Day & Early Purchase Options**
Save money when you pay off your lease early using our 90-day and early purchase options.
---
How Does It Work?
Three easy steps and you could walk out of our store with the spakling jewelry of your dreams–or finalize your online transaction and know it's on its way!

Step 1
Apply in-store or online for an instant decision.

Step 2
Visit Zales.com or your local store to shop.

Step 3
Sign your lease agreement, make your $79 initial payment1, and take your jewelry home or have it shipped to you.

Enjoy
Enjoy automatic payments and manage your lease online with
Progressive Leasing
or call 877-898-1970 to set up an early purchase option.
Why A Lease?
Enjoy these great benefits with your Lease Purchase
No credit needed* and no hidden fees
$79 initial payment1
Flexible weekly, bi-weekly and monhly payment schedules
Own your items in 12 months or less
Save on your lease with the 90-day and early purchase options**
Available for online and in-store purchases
FAQs Click Here
Ready To Apply?
You will need:
To be 18 years or older
A Social Security number or ITIN
A bank routing and account number for an open and active checking account
An active credit or debit card number
The advertised service is a lease-to-own, or a rental, or a lease-purchase agreement provided by Prof Leasing, LLC, or its affiliates. Acquiring ownership by leasing costs more than the retailer's cash price. Leasing available on select items at participating locations only. Not available in MN, NJ, VT, WI, WY.
*No credit needed: Progressive Leasing obtains information from credit bureaus. Not all applicants are approved.
**90-Day Purchase Option: Standard agreement offers 12 months to ownership. Early Purchase options cost more than the retailer's cash price (except 3-month option in CA). To purchase early call 877-898-1970.
1Regular $79 initial payment (plus tax) is charged at lease signing. Remaining lease payments will be determined upon item selection.
You Deserve More Options
When you find that jewelry store design that speaks to you, you have to get it. We offer a variety of payment options that make getting it easy.
Frequently asked questions
The lease purchase program from Progressive Leasing can be a great way to get what you want right now. Progressive offers a simple lease-to-own program where you pay gradually over 12 months. After Progressive receives your final payment, you own the product(s). Progressive Leasing is not available in MN, NJ, VT, WI or WY.
It depends. Applicants are evaluated on an individual basis and Progressive looks at many data points, including credit information, income, and banking history to determine approval amounts. These data points will indicate whether a Progressive Lease would be a good fit and, if so, the approval amount.
No. Progressive does not charge an application or processing fee. Progressive takes an initial payment when you sign the lease agreement, but it is the first of your lease payments and part of the total cost of the lease. If you are not approved, you will not be charged anything.
Payments will be deducted automatically from your bank account or charged to your debit or credit card submitted on the application. Charges will appear on your statement as Progressive Leasing or Prog Lease, not the store where you selected your merchandise. Your payment frequency will depend upon the payday frequency you provided on your application.

Once paid in full, you own it. Progressive Leasing is the owner of the item(s) until all scheduled payments are made or you exercise an early purchase option by calling 1-877-898-1970. At that time ownership will transfer to you. Regularly scheduled payments are still due even if you intend to exercise an early purchase option.
Contact a Progressive Leasing customer service representative at 1-877-898-1970. Customer service representatives are available Monday through Friday from 8 a.m. to 5 p.m. (MST), on Saturdays between 8 a.m. and 4 p.m. (MST), and are not available on Sundays. You may also access your account online via the customer portal anytime at https://myaccount.progleasing.com/.
No, but you will receive a letter welcoming you to Progressive with basic information about your lease agreement, including information about your payments and early buyout options. Your account can also be accessed online 24 hours a day, 7 days a week at https://myaccount.progleasing.com/.
Yes. You can purchase the product(s) at any time, though the lease agreement is set up to be 12-months by default. If you pay it off in the first 90 days, you can take advantage of the 90-day purchase option (3-month purchase option in CA) provided in your Lease to own Agreement. After 90 days, early buyout options are available, but vary by state. Both early purchase options can be exercised by calling 1-877-898-1970.
Yes. You can cancel your lease agreement at any time without penalty. If you are within the Zales Store return period, you may receive a credit or refund by returning your merchandise to Zales Store.
Yes. There are several items that cannot be leased through Progressive, including some warranties (unless approved by state law), repairs, gift cards, trade-ins and ring sizing.
Your payment amount will be determined by the item(s) you select, and the payment frequency provided in the application. You can calculate a payment estimate for a given lease amount during your lease application or by texting INFO to 575-97. Your exact payment amount will be found in your Lease Agreement, which will be available for your review prior to signing. If you have any additional questions, you can always speak with a Progressive Leasing customer service agent at 1-877-898-1970.
Your approval is good for 90 days. If you have not signed a lease agreement within 90 days, your approval expires, and you will have to reapply with Progressive. At some retailers, if you do not sign your lease agreement that day, the order is cancelled. However, you can still create a new order if it is within the 90 days of your original approval.
Progressive lease purchase program is not credit. With a credit transaction, financing or a loan, you make a purchase with borrowed money that must be repaid, often with interest. With a Progressive lease agreement, Progressive purchases the merchandise you select from the retailer. Then, you sign an agreement to lease-to-own that merchandise from Progressive. Progressive owns the merchandise, but you can take ownership after making all required lease payments or through an early purchase option by calling 1-877-898-1970. Acquiring ownership by leasing costs more than the retailer's cash price.